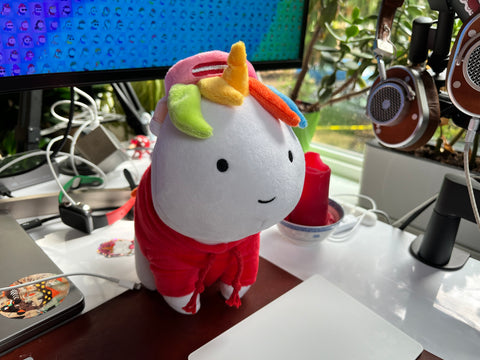 Chubbicorn 80 Plushy - I am 80
Pickup currently unavailable
A plushy is more than just a toy, it's a portal into our childhood, a place where chubby unicorns run wild, spreading giggles and joy deep in our soul.

Chubbicorn #80 rocks the classic red hoodie, and his pink beanie. He looks at you with his derpy face, and he knows, that deep down inside, you too are 80.
80 is both ♾️, and 0. You are an infinite being full of possibilities, and you are also nothing. In that duality, you find your bubble, a space where you are free to be your whole self, where no wounds were inflicted on you or your family, where you can prance, dance, and sing.
The 80 plushy features:

High quality materials and attention to detail in the craftsmanship
Soft stuffing so it's squishy - squeeze the 🍑
The classic look that brings a smile
Removable hoodie, in case you want to celebrate in his birthday suit
Hand packed, custom written letter in every box
Serial numbered, from the Office of Chubbicorn80
80 will personally pack each box, put out a special prayer and wish to your plushy, and throw in some stickers for the fam.